YouTube Channel


Facebook Page


Twitter Page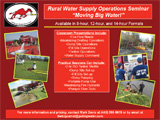 Rural Water Supply Operations Seminar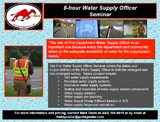 Water Supply Officer Seminar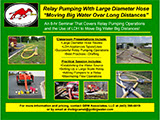 Relay Pumping With Large Diameter Hose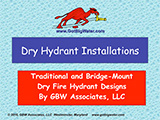 Dry Fire Hydrant Designs and Installations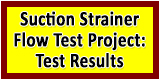 Web Counters
Website Visitors
Since
June 22, 2009

Visitors Today
Feb 28, 2020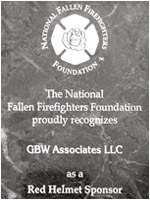 Dry Fire Hydrant Design #28 - Suction Head Issues
By President Mark Davis
August 1, 2019
When designing dry fire hydrants it is important to minimize the stress placed on the dry fire hydrant suction head by the water filled suction hose...this is especially true when using plastic pipe. If 90-degree elbows are used in your design then it is best to keep the suction head lower to the ground if possible (24 to 36 inches) so that the connection is lower than the eye of the impeller on the pumper. More importantly, when using 90-degree elbows it is best to use an elbow with an integrated suction head rather than trying to build on yourself using a straight suction head. The straight suction head will end up protruding out more than the integrated elbow head and will therefore create a big cantilever effect which can prove problematic. The longer the suction head, the greater the lever action on the fitting, and the greater the possibility for developing an air leak at the fitting.



Not the optimum design. A 90-degree elbow with integrated suction head would be the better choice. When suction hose is attached and filled with water there will be quite a lot of stress on the female suction fitting...possibly resulting in an air leak.




This DFH system used a 90-degree integrated suction head elbow and is well-marked and protected.




By keeping the suction head lower to the ground then less stress is placed on the connection and the connection is lower than the pump's impeller which helps alleviate air pockets.