YouTube Channel


Facebook Page


Twitter Page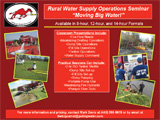 Rural Water Supply Operations Seminar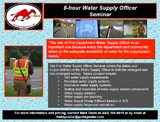 Water Supply Officer Seminar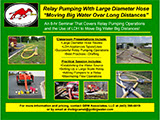 Relay Pumping With Large Diameter Hose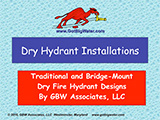 Dry Fire Hydrant Designs and Installations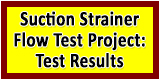 Web Counters
Website Visitors
Since
June 22, 2009

Visitors Today
Feb 28, 2020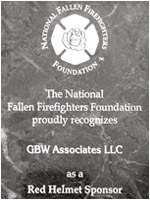 Dry Fire Hydrant Design #29 - River Installation - Cornwall Bridge, CT
By President Mark Davis
August 15, 2019
In the Fall of 2016 we completed a fire protection water supply assessment project for the Cornwall Volunteer Fire Department in Cornwall, Connecticut. Part of that project was an assessment of a damaged and out-of-service dry fire hydrant located in Cornwall Bridge along the Housatonic River. Our recommendation included a complete replacement of the system using 8-inch welded steel pipe and connections. During a recent journey through the Cornwall Bridge area we took a few minutes to stop and examine the new system. We are pleased to report that the new, welded steel pipe dry fire hydrant system is quite robust and doubles the capacity of water that can be pumped up into the nearby village. It is always nice to see recommendations come to fruition. Nice work to everyone in the Town that made this project happen!



September 2016: The old strainer....Hmmm....not there.




September 2016: The old PVC pipe....Hmmm...broken.




August 2019: Two pumpers can now draft simultaneously!




September 2016: The old suction head...4-1/2-inches.




The 2-1/2-inch port is used to pressure-back flush as part of regular system maintenance.




8-inch welded steel pipe out into the Housatonic River.




Steel strainers that can be cleaned out if needed.