YouTube Channel


Facebook Page


Twitter Page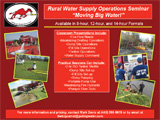 Rural Water Supply Operations Seminar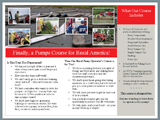 Rural Pump Operators Course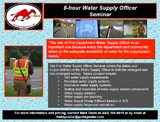 Water Supply Officer Seminar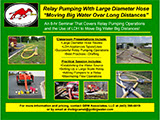 Relay Pumping With Large Diameter Hose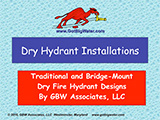 Dry Fire Hydrant Designs and Installations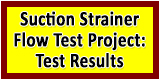 Web Counters
Website Visitors
Since
June 22, 2009

Visitors Today
Sep 22, 2019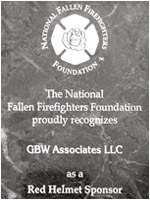 LDH Appliances #05 - Keep Adaptors Where They Are Needed
By President Mark Davis
January 10, 2019
During our seminar delivery travels, we often see folks digging through apparatus compartments looking for hose adaptors during the 2-hr water shuttle drill. Of course, there always can be that unique situation where an unusual adaptor is needed. However, folks should know the most common adaptors used or needed in their response area and the better practice is to carry those adaptors "where they are needed." In many cases, adaptors can be carried right on the hose appliance. During our 2-day rural water supply seminar in Casco, Maine a few years ago, the folks carried a 5-inch double-clappered siamese equipped with 5"x4" adaptors right on the siamese. This configuration allowed for arriving tankers or pumpers to connect to the siamese regardless of their supply hose size. All of the rigs operating in the drill either used 4-inch or 5-inch supply line. No one had to dig through a compartment to find an adaptor. Simple most always works best.



When mutual aid operations involve companies that run 4" and 5" LDH, carrying the adaptors right on the appliances often makes good sense.




4"x5" Storz adaptors carried on this double-clappered siamese reduce the need for "digging" through apparatus compartments to find the right fitting.