YouTube Channel


Facebook Page


Twitter Page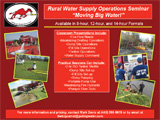 Rural Water Supply Operations Seminar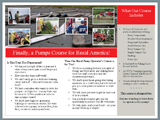 Rural Pump Operators Course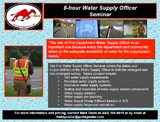 Water Supply Officer Seminar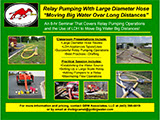 Relay Pumping With Large Diameter Hose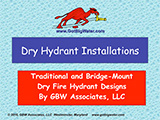 Dry Fire Hydrant Designs and Installations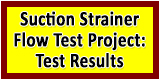 Web Counters
Website Visitors
Since
June 22, 2009

Visitors Today
Sep 22, 2019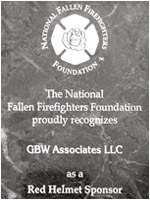 Fill Site Operations #04 - Portable Pumps Used for Open-Relay
By President Mark Davis
September 6, 2018
Portable fire pumps can be used in a number of applications in the water supply delivery process. The most important part of using these pumps is learning ahead of time each pump's capabilities and limitations. Most portable pumps have volume/pressure ratios that allow for reasonable flow but at lower pressure. For example, a portable pump might have an output rating of 400 gpm but at 25 psi discharge pressure. In most all cases seen on our website, those folks who are successful with portable fire pumps in the water supply delivery process use those pumps with LDH on the discharge.
The photos in this Thursday's news story come from our Rural Water Supply Operations Seminar in Hartford, Vermont (2011) where one of the tanker loading stations used dual portable pumps to feed a dump tank (through a pumper). When tankers arrived for loading, the pumper driver drafted out of the dump tank and loaded tankers at 1000+ gpm. When no tankers were present at the fill site, the pumper driver put water back into the source (lake) using a pre-piped deck gun...all while the dual portable pumps kept pumping at full throttle into the dump tank with no change in flow.



Deploying the pumps.




Dual, 400 gpm portable pumps are used to support an open-relay set-up for tanker loading operations.




Portable pumps outfitted with LDH allow access to surface water not readily accessible by wheeled vehicles.




Portable pump output traveled through the LDH lines into the pumper and out into this dump tank for storage.




No tankers present...water goes back into the lake.




One portable pump fed the pumper's front intake...one portable pump fed the pumper's side intake.