YouTube Channel


Facebook Page


Twitter Page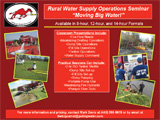 Rural Water Supply Operations Seminar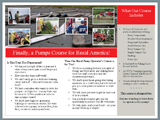 Rural Pump Operators Course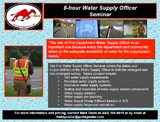 Water Supply Officer Seminar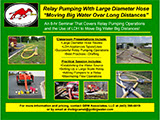 Relay Pumping With Large Diameter Hose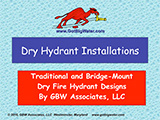 Dry Fire Hydrant Designs and Installations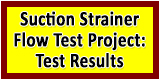 Web Counters
Website Visitors
Since
June 22, 2009

Visitors Today
Mar 25, 2019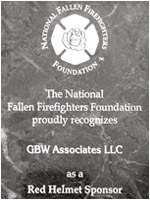 Dry Fire Hydrant Design 16 - Swiveling Bridge Mount Design - Ripton, Vermont
By President Mark Davis
June 28, 2018
On June 19th we installed one of our bridge-mounted, swiveling dry fire hydrants in Ripton, Vermont. The installation design used our angle mount brackets which were bolted to the bridge's guard rail posts. Ripton is located in a fairly mountainous area of Vermont and access to surface water in the main part of town is somewhat limited. The lift at the bridge was quite high (16+ feet) but the water supply was reliable and much needed for the area. While we generally avoid such high-lift installations, the outcome (984 gpm) proved acceptable to the local FD and we were pleased with the installation. The fire department plans on using the new installation primarily as a water source for tanker loading operations.
The installation was funded with grant assistance from the Vermont Rural Fire Protection Task Force, an excellent organization that strives to improve fire protection efforts in the rural areas of the State.



Some assembly work was completed at the Ripton VFD fire station.




The installation used the GBW angle-mount brackets bolted to the guardrail posts. The bridge is owned by the Town and they granted permission for this type of attachment.




When deployed, the pipe rests on the streambed, thus getting the length of the pipe "right" is important. The pipe is positioned, marked, and then cut to fit.




Pre-installation.




The dry fire hydrant is assembled and rests while the paint dries in the afternoon Vermont sun.




Krylon Fusion paint was used. This brand of paint is designed for the protection of outdoor plastics.




Making progress on the installation.




A vacuum gauge graduated in inches of mercury is attached to the pump's vacuum test port in order to collect an accurate lift reading.




All done!




Ripton VFD's Engine 1 (1250 gpm) was used to complete the flow test on the newly installed system. A flow of 984 gpm was achieved using 16-ft of 6-inch suction hose and overcoming more than 16-feet of lift!




Drafting without a problem.




A 16-ft length of 6-inch suction hose was used to make the connection.




Official!




When stowed, the system is protected from vehicles - most importantly, snow plows!




Another look at the stowed position.




Vacuum tanker loads directly from the dry fire hydrant.