YouTube Channel


Facebook Page


Twitter Page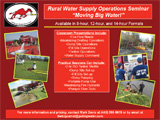 Rural Water Supply Operations Seminar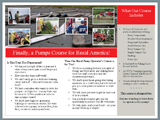 Rural Pump Operators Course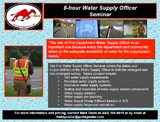 Water Supply Officer Seminar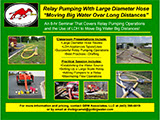 Relay Pumping With Large Diameter Hose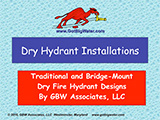 Dry Fire Hydrant Designs and Installations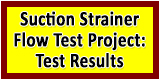 Web Counters
Website Visitors
Since
June 22, 2009

Visitors Today
Mar 25, 2019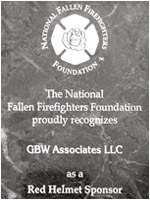 Hauling Water - Upstate South Carolina Style!
By President Mark Davis
March 15, 2018
On the afternoon of March 11th, the folks from Oconee County, South Carolina spent a couple of hours refining their water hauling skills as part of our 16-hr Rural Water Supply Operations Seminar. The weekend seminar was sponsored and hosted by Chief Charles King and the Oconee County Emergency Services. The 2-hr water supply drill gave the seminar participants the chance to refine their skills and put to work what they had reviewed earlier during the weekend. The weekend seminar started on Saturday with classroom work reviewing the basics of hauling water with tankers. The remainder of the weekend involved practical skill activities on drafting, dump site and fill site operations. During the 2-hr drill, three engines and six tankers were used to reach a peak flow of 1,000 gpm. Instructors for the weekend were Mark Davis and Alan Butsh. Many thanks to OCES for the excellent logistical support. A full summary will be posted in a few weeks.



The attack engine (E10) prepares to lay a supply line as the dump site engine (E12-1) arrives on the scene.




Tanker 13 (3000 gal) arrives on location and the crews begin to set up for dump site operations.




400-ft of 5-inch supply line is laid out by the attack engine.




More tankers from the 1st Alarm assignment arrive on scene.




Crews work to bring the dump tanks on-line.




Having no high-flow discharge on Engine 12-1, the crew used two smaller lines to supply the 5-inch supply line.




Three dump tanks (one 3,000 and two 2,000) were used to support the 1,000 gpm flow.




Water transfer operations were critical as the discharge flow rate increased.




Westminster Engine 63 (1500 gpm) drafted from Lake Keowee and loaded tankers at a rate of 1,000 fpm.




The folks used a Fol-Da-Tank suction elbow to aid in reaching the deeper water near the boat launch ramp.




A review session on dump tank set up was completed Sunday morning.




Learning about DFH operations.




Reviewing drafting and fill site operations on Day 1.




Learning to use a suction elbow to extend reach on narrow access areas.