YouTube Channel


Facebook Page


Twitter Page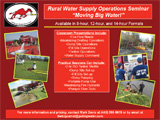 Rural Water Supply Operations Seminar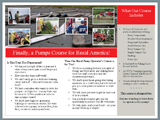 Rural Pump Operators Course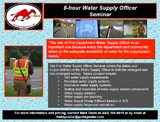 Water Supply Officer Seminar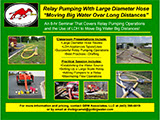 Relay Pumping With Large Diameter Hose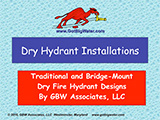 Dry Fire Hydrant Designs and Installations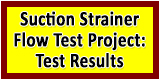 Web Counters
Website Visitors
Since
June 22, 2009

Visitors Today
Feb 16, 2019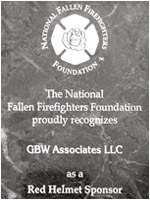 Dry Fire Hydrant Repair & Maintenance #03 - Mid-Winter Repair
By President Mark Davis
February 22, 2018
In areas where cold weather and snow impact FD operations, the protection of dry fire hydrants from vehicle and plow damage is very important. Steel pipe bollards or similar protective barriers are vital to the health and longevity of a traditional dry fire hydrant, especially if that system uses PVC pipe. If for some reason a dry fire hydrant is damaged during the snow and freezing season it is important to protect the undamaged parts of the system until repairs can be made. A sheared off pipe becomes a real problem if debris gets into the sheared off end.
The photos shown in this news story are from a few years in Central Maryland when a dry fire hydrant was sheared off during snow removal operations. The first action taken (after notification) was to place a protective cap over the exposed pipe until weather would comply enough for official repairs to occur. The capping of that pipe really "saved" the system because all kinds of items could have fallen down that pipe during the period awaiting repair.
Fortunately, as soon as weather broke (some sun and 40+ degree temps), we were able to complete the repair and return the dry fire hydrant to service.
Once again, inspection of dry fire hydrant sites is very important throughout the year...not just at annual flow testing time.
This dry fire hydrant had no protective bollards and was damaged during snow removal operations. The 6-inch cap placed on the pipe "saved" the system from further damage due to debris and other stuff falling into the pipe until repairs could be made.

With temps above 40-degrees F one day, repair operations commenced. The cap was cut off in order to gain access to the pipe.

A visual inspection of the inside of the pipe is critical in determining the extent of the damage. Many times a crack travels several feet down the pipe. In this instance, the pipe was sheared only at one location - thankfully.

A coupling and short length of new pipe were added to the existing pipe.

A new suction head was installed. Unfortunately, the repair authorization work did not include any protective bollards. The yellow "pole" is really a wooden stake that marks the end of the plow area for the plow driver. Obviously, that did not work out so well!

The new pipe and suction head were painted using spray paint designed for outdoor plastics.

All done.

Time for a flow test.

The 1500 gpm pumper takes suction and flows water.

A flow of just over 750 gpm was achieved and a certificate of repair was issued.