YouTube Channel


Facebook Page


Twitter Page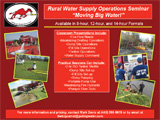 Rural Water Supply Operations Seminar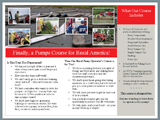 Rural Pump Operators Course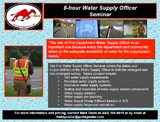 Water Supply Officer Seminar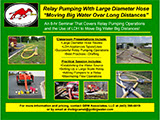 Relay Pumping With Large Diameter Hose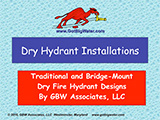 Dry Fire Hydrant Designs and Installations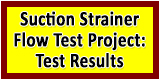 Web Counters
Website Visitors
Since
June 22, 2009

Visitors Today
Mar 25, 2019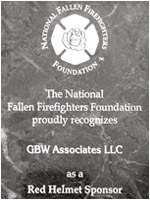 Dry Fire Hydrant Design #14 - Patriots Point Museum - South Carolina
By President Mark Davis
February 15, 2018
Deputy Chief Matt Cole (Chichester FD - New Hampshire) was kind enough to provide us a few photos of an interesting dry fire installation in Mount Pleasant, South Carolina at the home of the Patriots Point Museum. While we have no official details of the installation regarding when, why, what, and how...one can surmise quite a bit by just looking at it.
The design includes the use of a single length of lightweight, 6-inch suction hose - looks to be perhaps 20-feet or more in length. A Zico floating strainer is attached to the suction hose - from our September 2017 suction strainer flow tests, we know that the Zizo strainer performed quite well (but at a lift <5 ft). It appears that some type of cable lowering/retrieving system is used to deploy the suction hose and strainer onto the water's surface.
We would like to see some performance test data before placing any serous judgement on the design...however, a couple of concerns include the constant exposure of the lightweight suction hose to UV rays and the long-term effects of the load placed on the couplings of the lightweight suction hose when the hose is in the stowed position.
Otherwise, we always enjoy seeing creativity. Many thanks to our good friend DC Cole for taking the time to take and send us the photos.
Joseph Guyther
February 16, 2018 at 8:10 PM
What is the lift at mean low water?
GotBigWater
February 17, 2018 at 6:36 AM
We don't have that answer. All we know is what we see in the photos. Although, at best....the lift looks to be greater than 10-ft at high tide ...using the water marks on the support structures.
Stuart Cobb
February 17, 2018 at 1:46 PM
We had some suction hose (made by Firequip - actually a nice, VERY flexible hose) that was mounted on the top of the truck. After ~ 10 years of exposure to the variable New England sunshine, the exterior of the hose was very tacky, even leaving an almost pine pitch type residue on your hands if you handled the hose.