YouTube Channel


Facebook Page


Twitter Page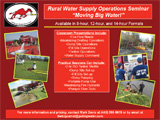 Rural Water Supply Operations Seminar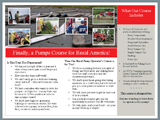 Rural Pump Operators Course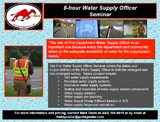 Water Supply Officer Seminar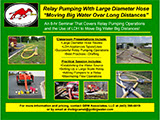 Relay Pumping With Large Diameter Hose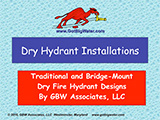 Dry Fire Hydrant Designs and Installations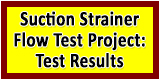 Web Counters
Website Visitors
Since
June 22, 2009

Visitors Today
Dec 17, 2018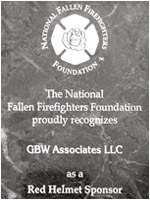 Drafting Basins #01 - Clinton, CT
By President Mark Davis
November 2, 2017
There was some recent discussion about "drafting basins" in our Members Area Discussion Forum so we thought we would show a couple of photos about the basin concept. Of course, terminology can vary from locale to locale, but traditionally a drafting basin is an area where FD drafting operations can occur without the need for making a connection to a suction head and the water supplied comes from a natural source such as a pond or stream. A common style of drafting basin uses large culvert pipe and a manhole-style access point to receive water from a pond. Pond water travels through the culvert pipe and a FD pumper can draft via the manhole access.
Generally, the drafting basin concept works well as long as the culvert pipe is large enough to not restrict natural flow currents and the lift at the manhole access is not excessively high. This means using 16-inch or larger culvert pipe and trying to keep lift at or below 10-feet. The other important part of this operation is routine maintenance on the culvert pipe - meaning that sediment buildup must be controlled. A public works vacuum truck used to clean out storm water drains should be used annually to remove sediment and debris build-up in the basin and culvert pipe. The other important item deals with design, the culvert pipe should have some type of large screen over the end in the pond so that aquatic life does not take up residence inside the pipe.
A few photos of a drafting basin are shown in this News Story. They are from a water supply study that we completed in Clinton, Connecticut a few years ago. There are a number of drafting basins in use in Clinton, CT and some of them were part of the original design of the developed area.
The manhole access point on tho basin is about 100-feet from the large pond in the middle of this residential development.

To access the drafting point, the concrete lid to the basin is slid off.

Plenty of good, clean water available in this pond and thus the drafting basin has an excellent supply. When looking at the land use maps for this area, an easement was included during the original planning just for the purpose of FD drafting access.

Clinton FD Engine 3 is shown here drafting and flow testing the site.

Drafting basins generally require no connection to a fitting and simply provide a large opening in which suction hose and a barrel/basket strainer can be deployed. These arrangements can easily permit flows in excess of 1,000 gpm.
Vincent Montuoro
November 10, 2017 at 7:54 AM
Thank you Mark, this answered my question with the original thread!